Motorcycle Safety Tips: Brush Up Before You Head Out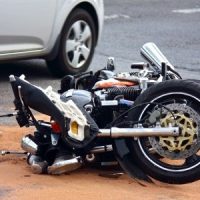 Motorcycles represent only three percent of U.S. vehicle registrations, but motorcycle fatalities make up more than 16 percent of all vehicle fatalities in the country. According to the National Highway Traffic Safety Administration, approximately 80 percent of motorcycle accidents result in serious injuries or death.

Illinois Motorcycle Accident Statistics
In 2014, Illinois motorcycle accidents accounted for 1.2 percent of total crashes, 13.7 percent of fatal crashes, and 4.0 percent of injury crashes. According to statistics, half of motorcycle rider fatalities occurred in crashes that did not involve another vehicle. In crashes with other vehicles, 40 percent of motorcycle drivers tested positive for alcohol and needed a Chicago accident attorney for personal injuries.
In an effort to reduce motorcycle injuries and fatalities, the Illinois Department of Transportation (IDOT) and the Illinois Motorcycle Dealers Association (IMDA) have joined together to promote motorcycle safety. Riders are urged to attend free motorcycle training classes to brush up on riding skills and safety.
Motorcycle Safety Courses
In Illinois, a written and driving test administered by the Illinois Department of Transportation is required for a motorcycle license. If a rider completes an IDOT motorcycle safety course, this requirement can be waived. For any Illinois resident who is 16 years old or older with a valid motorcycle or automobile license or permit, these safety courses are free. Motorcycle safety courses give riders an opportunity to improve riding skills and prevent accidents that require legal advice from a Chicago accident attorney.
Motorcycle Safety Tips
To prevent accidents and injuries, riders should follow important motorcycle safety tips:
Stay Visible – Wear high-visibility, protective clothing at all times to stay visible to other drivers.
Wear a Helmet – Wear a helmet that's approved by the Department of Transportation. Look for a DOT seal or sticker that shows the helmet has been tested by the federal government and meets minimum safety requirements.
Maintain the Motorcycle – Get regular maintenance by a trained mechanic to ensure that the motorcycle is in proper working order and all safety features are functioning.
Drive Defensively – Ride in designated lanes and don't change lanes quickly. Avoid vehicle drivers' blind spots. Allow a minimum two-second "space cushion" when following another vehicle, and a five-second "cushion" in bad weather conditions.
Avoid Bad Weather – Avoid bad weather like rain and snow that create hazardous road conditions.