Pedestrians Entering or Crossing A Roadway in Illinois Are Afforded Legal Obligations and Protections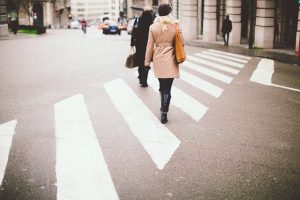 The Illinois Department of Transportation notes that there were 165 pedestrian fatalities in 2018. Over the course of this year, even with a statewide lockdown as a result of Covid-19 through May 17, 2020, 46 folks have been killed as pedestrians on the roadways. The numbers are much, much higher when omitting deaths and only counting injuries.
Illinois laws governing the rights of pedestrians are contained in statutes and developed further through lawsuits that have been ruled upon by judges in the Courts of the State of Illinois. These laws help determine our responsibilities as we walk to and from our car, to the store or to our friend's house.
Pedestrians should always cross streets in a marked crosswalk or where a crosswalk would logically exist (corner to corner). We should always look both ways before stepping into a street and of course, follow the commands of traffic signals. When in doubt always err on the side of caution – never assume a driver will stop for you. Finally, focus on where you are and what is in front of you rather than on your cell phone or other electronic devices. In other words, slow down, pay attention, and be in the present – you are a walking human in a village of cars.