Robert Cohen
Accident & Injury Lawyer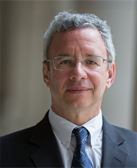 In 1983, Robert M. Cohen first became licensed to practice law in Illinois. In the next few years, Robert learned that his injured clients came to his office with many questions. How were they to pay their bills when they were off work due to their injury? Why was the insurance company for the negligent person who caused their injury-not calling them to help them? What were they to do? Robert soon learned the meaning of the word "counsel."
Robert has since handled hundreds of personal injury cases ranging from traumatic amputations as a result of defective machinery to negligent surgeries where surgical sponges were left inside a young woman's abdomen to an explosion causing third-degree burns to workmen who had been directed to use their cutting torch to disassemble a discarded underground gasoline storage tank. All of these people were injured through no fault of their own and all needed a caring and aggressive attorney to help them.
Robert successfully helped those burn victims obtain a settlement, which was at that time, the largest personal injury settlement ever reached in McHenry County. Over the years, Robert has continued to successfully represent the severely injured and has obtained dozens of jury verdicts far exceeding any offer made by the insurance company involved in each case. He has employed engineering, accident reconstruction, economic, vocational rehabilitation, construction, architects, and physician experts on the path to obtaining through verdict, arbitrations, and settlement over thirty-five million dollars on behalf of his clients.
Robert graduated with his undergraduate degree from Miami University (Ohio) in 1979 after having attended Oberlin College through 1977. He then earned his law degree at The John Marshall Law School in 1983 where he served on Dean Ronald Olson's Leadership Council as well as being elected President of the Decalogue Society. Robert is licensed to practice before the Illinois Supreme Court, the United States District Court for the Northern District.